Y'all! We are so excited about this awesome event at Elle James Bridal in Ridgeland. On February 9th through the 11th, Elle James will be hosting a Martina Liana tester trunk show. The beautiful, intimate space will be transformed into a show room for gorgeous Martina Liana gowns that have never been seen before! Martina Liana is a designer that caters to the classic southern bride looking for a little bit of wow factor on her special day. Her pieces incorporate traditional southern elements like lace and beautiful beading but every piece has some amazing element that makes it stunning and unique; this could be a long train or an interesting back! The unique thing about a tester trunk show is that brides get the opportunity to try on gowns from designers that have yet to be seen by almost anyone. Around twenty stunning pieces will be available to try on, and none of them have even gone to market yet. Designers do tester trunk shows to gauge the reaction to different pieces before they are officially added to the newest collection. This gives brides the opportunity to find a fabulous gown for their special day that won't be available to everyone else until the new collection is introduced in August. How cool would it be to walk down the aisle in a gown that has not even hit stores yet!

​
This also means that brides that find their gown during this tester trunk show will be months ahead of the bridal trends because the rest of the industry won't see the designs until fashion week in April. Even the gown you chose doesn't end up making the final cut for the new collection, the designer will still make the gown for you at the same price as comparable gowns in the collection. You would essentially be getting a unique custom gown for an incredible price if one of these gowns catches your eye.

There are some important details to remember when trying on dresses at a tester trunk show. The earliest date of your wedding to be eligible to purchase one of these amazing gowns before they go to market is September 1st. This is because these dresses take longer for the designer to create than gowns purchased from a normal collection. The gowns at this tester trunk show will range from 2,000 to 3,000 dollars. Elle James is an appointment-only bridal shop, so make sure you head to their website or call to set up an appointment as soon as you can. Appointment times are filling up fast!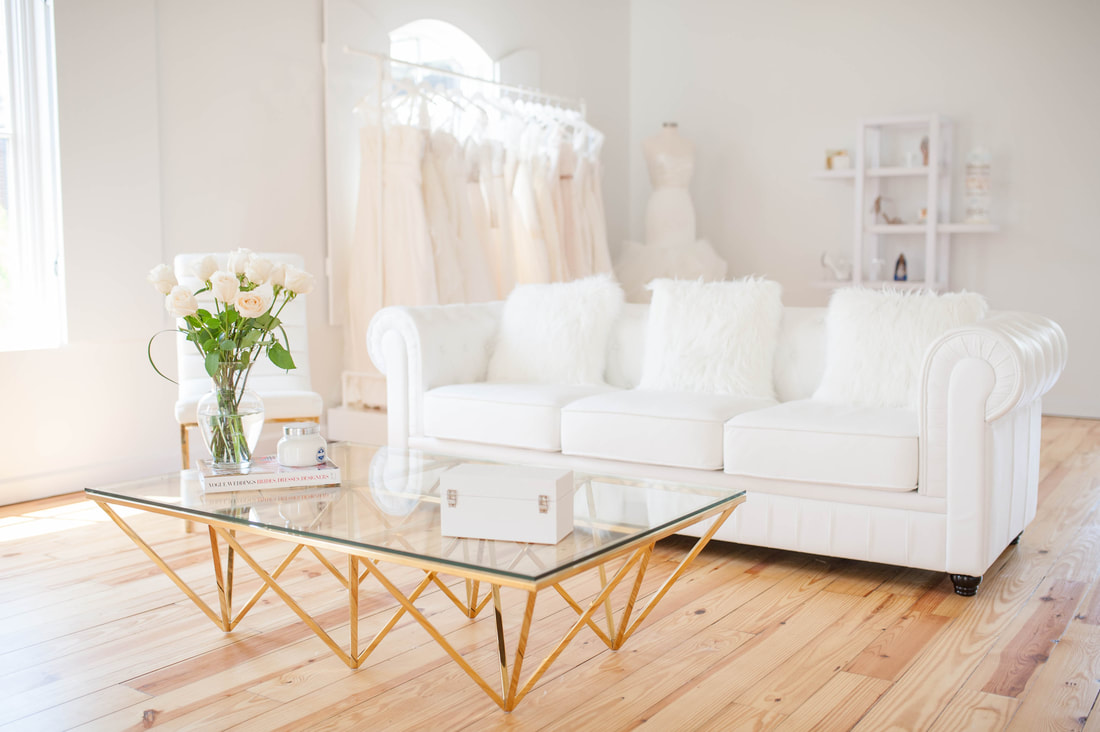 We also got the pleasure of chatting with the owner of Elle James, Kristin Panetta, about what makes the Elle James experience so special. "The Elle James experience is incredibly private and special. It'll just be you and your family in the store." Kristin goes on to add that "a lot of brides feel like we become their friends and allies throughout the entire process. We are there to be your friend and help you, if the gown you're looking for isn't at Elle James, we will try to help you find it! It is far more than a sales pitch for us. We aim to make the bride the happiest she can be." Trying on bridal gowns surrounded by only your closest family and friends is "a moment that brides never forget." The shop only carries bridal gowns, so there is no opportunity for a bridesmaid to wander off to check out bridesmaids gowns or the mother of the bride to start searching for her own dress. The focus on the bride, "we want to give the bride all the attention she needs, there's something very special about only talking about, looking at, and being there for the bride."
We asked Kristin for some helpful tips on how to approach finding a wedding gown. "My biggest piece of advice is to come in with an open mind from the very beginning. There are so many options on Instagram and Pinterest now that it is very easy to get set on once specific style." In order to make the most out of your time while trying on gowns, Kristin suggests "trusting the people you're working with. We see all kinds of body shapes and know what brides really love to see in a gown." Brides that come in with an open mind, tend to have a better and more exciting experience says Kristin, "try on what you like of course, but don't be afraid of wild cards!" As far as determining which gown is the "one," it normally is the "gown you start comparing all the others to." If you happen to be caught between two gowns you really love, she suggests "going by the feelings you have in each one. Which one makes you feel the best, which one makes you more excited about walking down the aisle to your fiancé on your big day."
Head over to Elle Jame's
website
to make an appointment, or give them a call
769.300.4286
during their business hours to take advantage of this spectacular opportunity!
The gowns pictured are from Martina Liana's latest collection.