"
Metropolitan Bank
started in 2008 with one primary vision - to bring back the importance of personal relationships between clients and their bank. Prior to 2008, banks had become more about the bank and less about the client, and we wanted to change that. It was really a return to what banking used to be with one big caveat – technology," says Bill Barron, Mississippi Market CEO with Metropolitan Bank.
With just one glance at Metropolitan Bank, you know you are getting something exciting and unique. The bank beautifully stands on Highland Colony Parkway in Ridgeland, and the impressive architecture beckons you to take a second look. Metropolitan Bank is modern and inviting, and as soon as you step inside, you are truly greeted like an old friend. Bill adds, "We wanted our offices to be cool and different, but we also wanted clients to be able to do all of their banking without stepping into our office if that was what they wanted. It's all about allowing clients to choose how they wish to bank. We have clients who love our offices and want to come in to handle the day transactions and have a cup of coffee. Other clients want to be able to do everything mobile."
Every employee at Metropolitan Bank is friendly, assertive and knowledgeable. We interviewed Adam Black and Matt Wilson, Mortgage Specialists, to learn more about their Mortgage team and why banking with Metropolitan Bank is incredibly special and beneficial.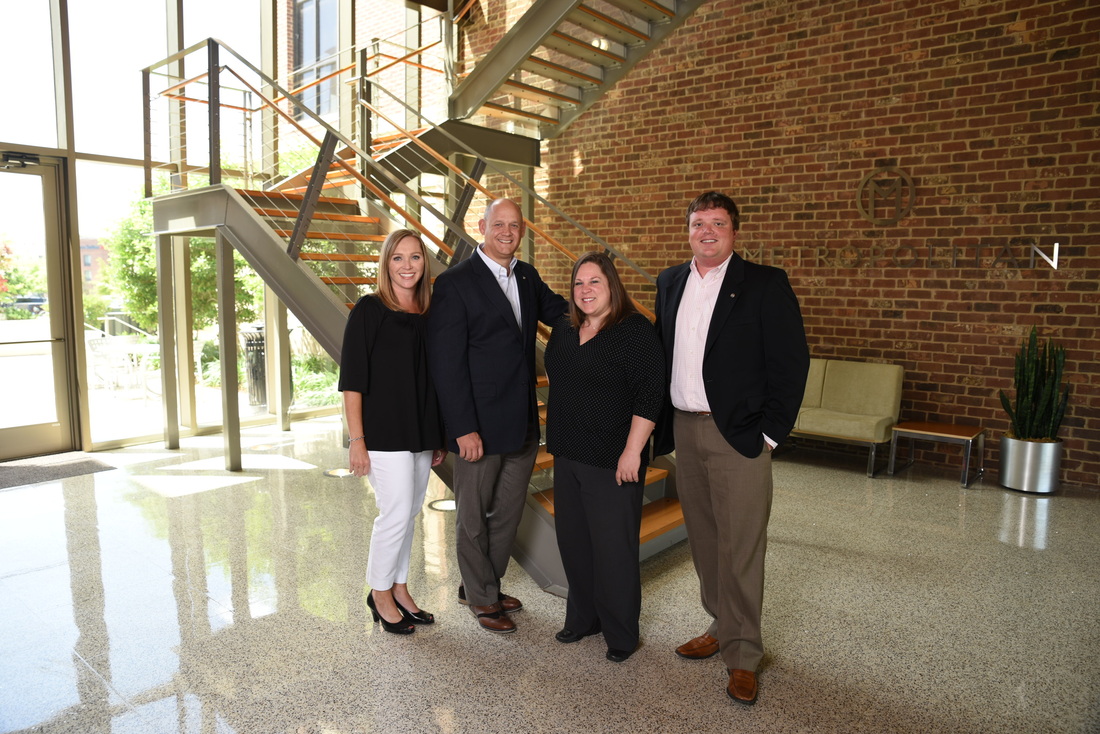 Mortgage Team, Ridgeland office - Shannon Zenor, Jenny Breaux, Adam Black, Matt Wilson

What makes Metropolitan Bank so different? Why should customers bank with Metropolitan instead of your competitors?
"Our unique approach to simplifying the banking process resonates with our clients. Our ability to think outside the box and offer solutions that add value further solidify us as the bank of choice." Adam

"When Metropolitan was started in 2008, Curt's vision was simple – a return to basic banking where relationships matter, and where credit decisions were made locally. The vision was centered on people: the Metropolitan associates and their clients. One of our beliefs states that our clients should always know how much we care. When you keep things simple, with a focus on the client and understanding their needs, clients feel that and it really makes a difference. Specifically to my area of the bank with mortgage lending, we work hard to make sure we keep things simple for our mortgage clients. Buying a home can be stressful, so it's our goal to keep them informed and make the process as seamless as it can be for them." Matt

Even the outside of Metropolitan is special. The architecture is spectacular and truly stands out. Does the architecture mimic the way the bank operates?
"We like to think so. In the same way the architecture is forward thinking and progressive, we tend to implement that same thinking into our daily processes." Adam

"The building architecture at Metropolitan is unmistakable and very intentional. We are not a brick and mortar bank that is built on a big branch network, but more on technology and accessibility through multiple access channels. We truly believe we are a different kind of bank, and we want our buildings to reflect that. We have some clients who rarely come to the bank, but we have others who love to come by and visit, even though the technology is available such that they really don't have to. I think that has something to do with our building, but more to do with the experience once they come inside. All you have to do is step inside to know that it is not the same experience you would have at another bank. The bottom line is we want people to have an exceptional client experience every time they interact with Metropolitan, whether that is inside our bank or not." Matt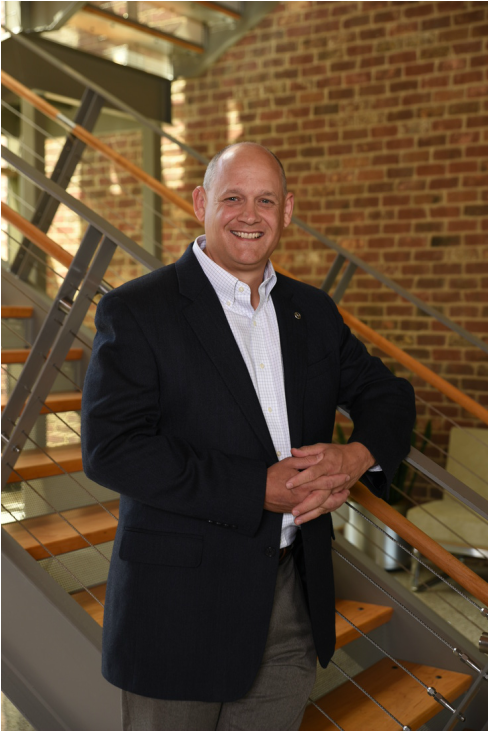 How does Metropolitan make banking easier for your customers?
"Overall client service coupled with outstanding technology makes the client experience smooth and stress free." Adam

"Metropolitan operates on an Omni-Channel strategy – by that I mean we offer multiple channels to our clients from which they can choose how they want to customize their banking experience. Some use multiple channels while others focus on one specific option. We just want to be sure it is simple and seamless regardless of how they want to interact with us. Outside of the technology like our mobile app with mobile deposit, we also have a Metropolitan car that will come to any client to pick up checks, deposits or paperwork. It's just another way we can make our client's banking easier and hopefully make their busy life simpler." Matt

How did you get into mortgage lending?
"I was moving quickly through the management side of automobile manufacturing and became very aware of my desire to get in an industry that was client driven. I felt that the real estate industry was one that I could use my self-drive and networking skills to excel. I chose the financial side rather than sales and have been so happy since." Adam

"After receiving my Bachelors from Southern Mississippi, the plan was take a year off and get ready for Law School. I had an opportunity to work as a Loan Officer and thought it would be excellent 'Real World' experience. Within my first 3 months I knew this was the Industry meant for me. There is an excitement that surrounds this industry and it is very addicting and one of the many reasons I love my job." Matt

What services do you personally offer your customers?
"I offer residential lending solutions that run the gamut from construction, refinance, to purchase. We use different lending products based on the client's needs to help them use their mortgage as more of a financial tool than simply a liability. Our goal is for the mortgage to be a way for our clients to build wealth through their home over time." Adam

"In my world of mortgage, we offer all of the traditional mortgage products you often here discussed. FHA, VA, fixed, floating, bridge loans, etc. We work with everything from first time home buyers to those who might want to purchase a second home. With our online applications it is a simple process to apply and get pre-qualified. Then we can walk with you each step of the way. Outside of mortgage, the bank offers just about anything else you can imagine from a bank. For individuals we offer various forms of checking and savings accounts, certificates of deposit, consumer loans, lines of credit, as well as our mobile and online banking offerings with bill pay and mobile deposit. For our commercial clients, we offer everything from business transaction accounts with online banking to lines of credit, construction loans and commercial financing. We also have a very robust treasury management suite of products that include remote deposit capture and lock box, as well as our merchant card services." Matt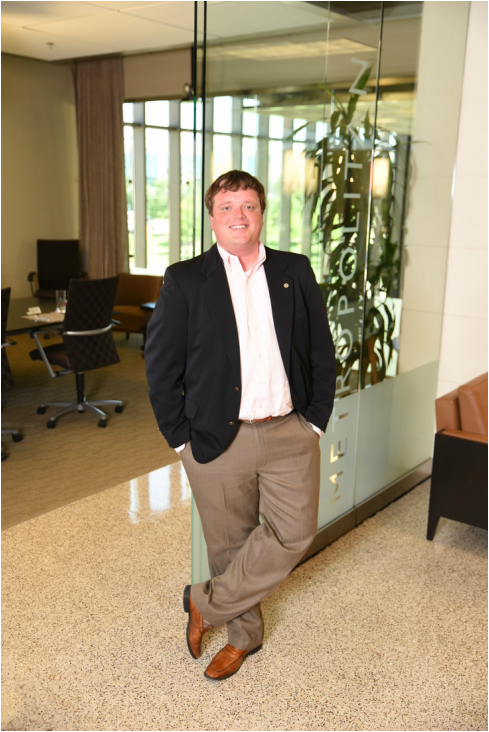 Any advice for people interested in a mortgage loan?
"If someone leads with rate and closing cost be aware. There is so much more to a mortgage. You need to look at the total cost of the product over time. Up-front funding fees or excessive monthly mortgage insurance may impact the overall cost of a loan to the point that taking a higher interest rate on a different product might make better fiscal sense."
Adam
"The entire process of purchasing a home can, at times, seem very overwhelming. It is critical if you are thinking about purchasing a home you get your team, Loan Officer and Realtor, in place. Surrounding yourself with the right people well make the process much more efficient and enjoyable."
Matt
Anything else you want to add?
"Our industry is changing at a rapid pace. Never has it been more important to consult with a true mortgage professional. This professional needs to take the time to find out your needs, you goals, etc. so they can better help you navigate the process."
Adam
"I would just add that there is so much misinformation out there today regarding mortgages and their availability. With all of the talk about the housing market, I think a lot of people have gotten the false impression that it is extremely difficult if not impossible to get a mortgage today. The reality is that many, if not most people out there thinking about buying a home can qualify. If there is someone out there who feels like they can't qualify, I would encourage them to speak with a mortgage lender and walk through the application process. It is pretty quick and painless and we can walk you through the process. Then you won't have to wonder if you qualify – you will know and you can begin taking the next steps toward owning a home."
Matt
Thank you so much, Adam and Matt! As you can see, banking with Metropolitan Bank is an easy, yet extraordinary experience. Bill nails it when he says, "Our vision is to look at every client relationship and deliver an exceptional client experience based on their definition of what banking should be, not ours. If we have associates who love what they do and are happy in their work, they will deliver that exceptional client experience which has come to define Metropolitan, and in the end everyone wins."
For more information on Metropolitan Bank, please visit their beautiful website
here
. Thank you to Karla Pound of
Pound Photography
for the wonderful photographs!
{Blog by Mitchell Walters}