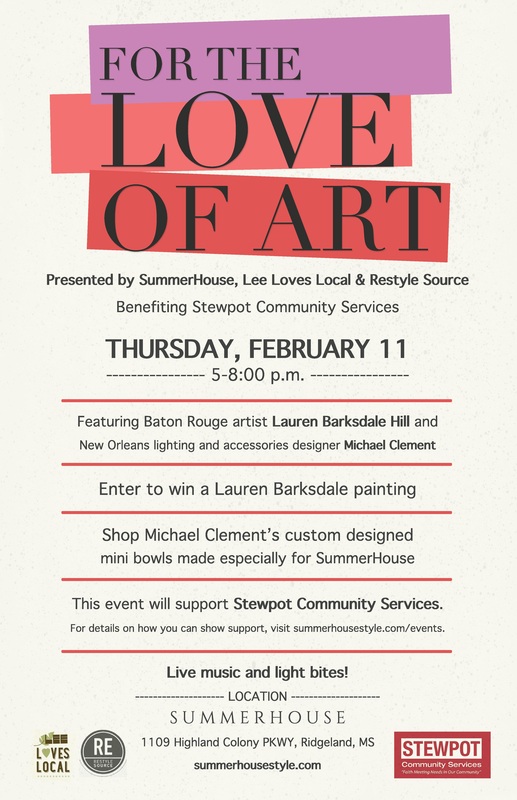 SummerHouse
, our favorite design firm and furniture boutique in Ridgeland, is hosting an incredible event THIS Thursday, February 11th, from 5:00pm until 8:00pm, benefiting Stewpot Community Services! This fantastic evening is part of a national campaign called Lee Loves Local, hosted by Lee Industries furniture company and Restyle Source design website, celebrating locally owned design-based businesses!
Laurel Donahoo of SummerHouse says, "Each business participating in the Lee Loves Local campaign hosts an event benefiting a local charity during the month of February. SummerHouse's event is called For The Love of Art!"
Two regional artists will be present at SummerHouse, showcasing exclusive pieces made specifically for the event! Painter Lauren Barksdale Hill, a Baton Rouge native, will be selling gorgeous acrylic on canvas pieces, and one lucky guest will win a gorgeous work of art in a raffle! New Orleans lamp and bowl designer, Michael J. Clement, will have exclusive "Lindsey" bowls for sale, made
just
for Thursday evening's soiree!
While viewing the lovely art, guests will nibble on light bites and enjoy refreshments and live music! Each attendee is encouraged to make a $10 donation to Stewpot or give a bag of non-perishable food items for Stewpot's food pantry at the door to gain entry. SummerHouse will have bags available prior to February 11th, should attendees want to stop by, pick up a bag to fill and bring back during the event!

SummerHouse owner and lead designer, Lisa Palmer, says, "We love the Lee Loves Local campaign because it helps put small businesses like SummerHouse in the forefront and it highlights one of the best things that local businesses do for our communities:
give back
! We are thrilled to have two of our favorite artists and makers join us for the evening with exclusive designs. And as always, we love to have an opportunity to help support Stewpot Community Services! What they do in our city is so important so we want to help support them in any way that we can!"
Stewpot Community Services
was founded in 1981 to assist Jackson's poor and homeless population. With multiple shelters and programs, Stewpot continues to help the underprivileged gain the skills and experience necessary to live successfully on their own.
Traditional Home Magazine's Rising Stars of Design: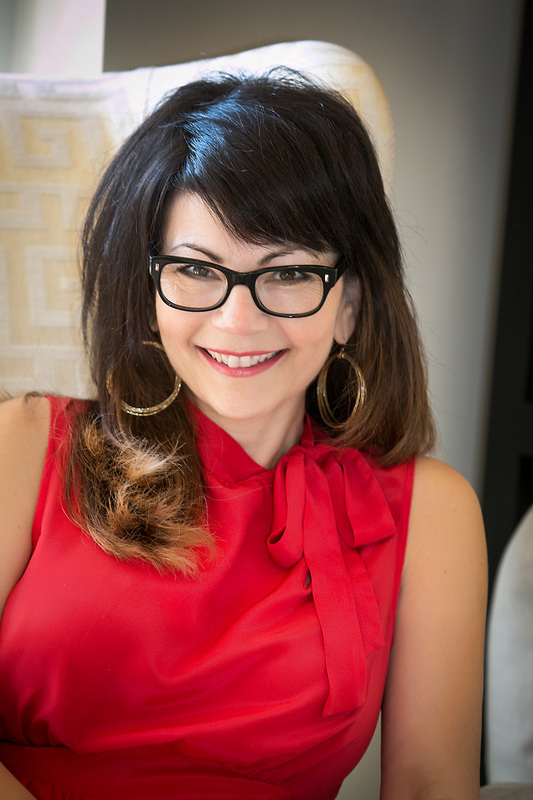 Beloved shelter publication,
Traditional Home
, is searching for the next interior design star, and Lisa Palmer, SummerHouse founder and principal designer, has been nominated! Lisa smiles, " A friend and my Public Relations agent from Atlanta nominated me. She has a very popular blog called 'The Peak of Chic' and is privy to the whole interior design industry, its social world and all of it's publicity worthy news. I wasn't familiar with the contest, although I read
Traditional Home
and truly love the magazine. In fact, I'm not really sure how it got past me! But she thought it would be a great thing for me. I am not one to put myself out there, so to speak. I haven't worked very hard to get my work published either. I love managing my staff and buying for SummerHouse; I also love my design clients and working for them! I am truly passionate about the world of design. I simply couldn't live without it."
To vote for Lisa,
please click here
! Her talent and love of design is astounding. She would truly be the perfect winner of this contest!
Best of luck, Lisa! We will all be voting for you! For more information on SummerHouse, please visit their beautiful website
here
. We hope to see everyone at the For The Love of Art Event
this
Thursday!
{Blog by Mitchell Walters}