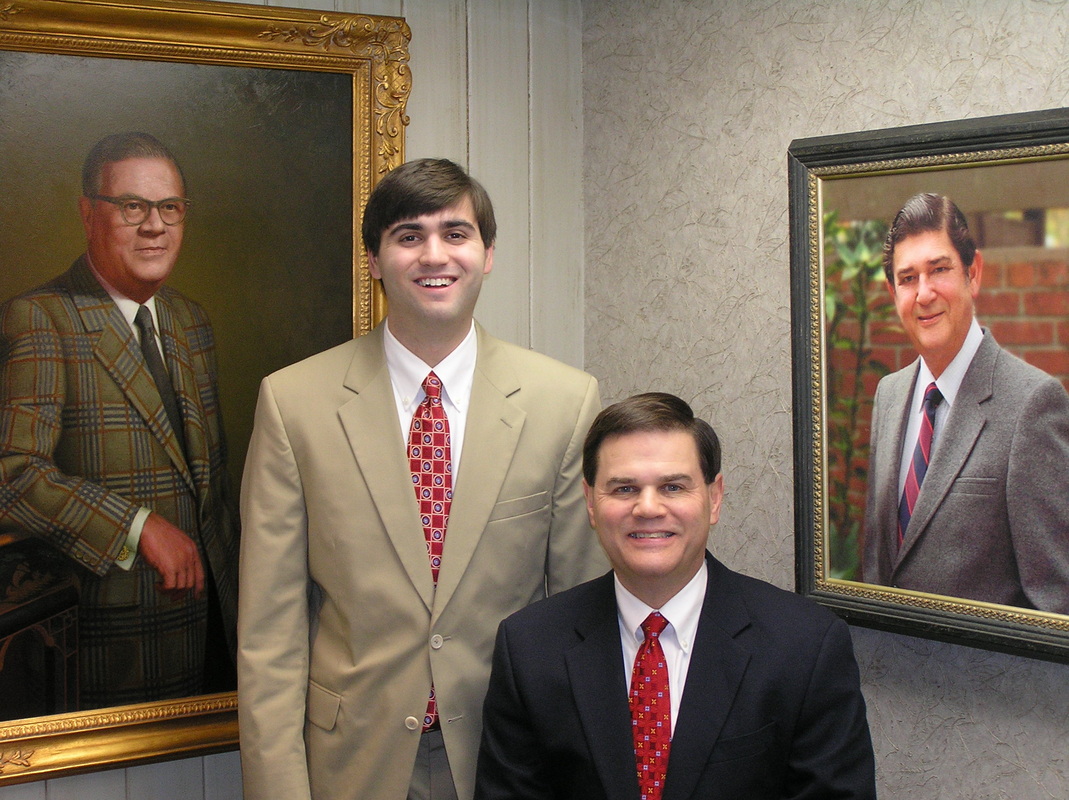 Inspired by his experience as a watchmaker, John Leslie Albriton, Sr., opened a watch and clock repair shop on Capital Street in downtown Jackson. The year was 1920. Albriton's was primarily a watch repair shop and carried only a handful of jewelry.
Albriton's great-grandson, Cameron Albriton, says, "Albriton's has been handed down from father to son for four generations (myself being the 4th generation). My Grandfather John Leslie Albriton, Jr. capitalized on the early success of his father by expanding Albriton's jewelry collection, while still maintaining our stance as a watch repair destination store (John Jr. was a trained watchmaker like his father). My father, John Leslie Albriton III, has contributed to the growth of Albriton's during his career by adding many different designer lines to Albriton's jewelry selection, and I joined the business in 2008 after finishing my graduate gemological degree at the Gemological Institute of America (GIA). We look forward to continuing Albriton's great tradition of providing excellent customer service and top quality jewelry to the people Mississippi, as we are VERY close to breaking ground on our own freestanding building, that the store will be moving into in Summer of 2017."
Albriton's Jewelry has been in business for
96 years
, and remains one of the most renowned jewelry stores in the south. We had the great pleasure of speaking with Cameron about Albriton's, and we are thrilled to share more with you today!
Albriton's has been in business almost a century. What has changed for the company and what has remained the same?
"We've been blessed to have the opportunity to operate a successful business for quite a long time, although many things have changed over the years. Fashion styles come and go, so that is a constant change in our industry, and the challenges of the business have changed a lot over the years. There is a lot more competition out there these days, whether from online competitors, or other industries taking a piece of the pie, such as electronics (ipads, iphones, tablets, etc.). As technology advances, stone cutting techniques have become more precise, as well as jewelry designs have become much more complex. This gives the consumer many more options to select from than in years past.
I would say that the main thing that Albriton's has been able to keep going for all of these years is our focus on customer service, and making sure our customers are getting the very best value for their dollar. We strive to keep a customer-first focus, as we feel it really adds something to our customer's overall experience when shopping with us."
What sets Albriton's apart from other jewelry stores in Mississippi?
"We are the only jewelry store in Mississippi that has been passed down from father to son for four generations since 1920. We offer several exclusive designers that are not available from other jewelers in the area. More importantly, we feel that our customer service is what really separates us from other stores in Mississippi. We go above and beyond to make sure our customers are pleased with their experience at Albriton's."
Do you have generations of families who continue shopping with you? Why do you think these families are so devoted to working with Albriton's?
"Albriton's has many multi-generational customers who have shopped with us for many years. I feel the reason we are able to keep our customer's coming back from generation to generation is the service they receive while shopping with us. Also, being a large engagement ring dealer, we have been able to be a part of so many special moments in people's lives, and we have nurtured those relationships over the years. We feel this leaves the customer with a great experience, and we hope that that draws them back to us for all of their future jewelry needs."
What are your top-selling items? Are there any pieces or brands you would like to focus on or mention to our readers?
"The most consistent selling items for Albriton's would be diamond engagement rings and watches. Fashion jewelry tends to be more seasonal, but is a lot of fun to sell. Some of our top designer lines are Tacori, Simon G., Roberto Coin, Mikimoto, Breitling, Baume & Mercier, and Michele. Of course, we have multiple other designers that offer beautiful selections as well."
Tell me about Albriton's new location! Where will it be and when will it open? Why did you decide to open a new store?
"We are super excited to be building our very own freestanding building in northeast Jackson! In the past, we leased our different locations, and recently we had the opportunity to purchase some land and build our own store from the ground up. This is something we had considered for several years, and the location and timing worked out perfectly for us. We have been located in Jackson since our founding, and really wanted to stay within the city limits. We found a spot that we love, and were able to acquire the property. The building will be located just north of the buildings that are part of Highland Bluff North complex, as we purchased the northern section of their parking lot from them. The building will essentially be across the street from Bravo Restaurant, which is located on the southern end of Highland Village. We will be opening in the summer of 2017. We decided to move to our own freestanding store, because we always have wanted to own our own building, and the right opportunity presented itself. We also feel that we are a destination store, and having our own freestanding building will give us even more presence and visibility in our area."
Will the store in Highland Village remain open?
"Unfortunately, we will be closing our doors in the Highland Village location just prior to moving into our new building. The owners/magagement of Highland Village have been great to us with this transition, and we wish them great success in continuing the tradition of upscale shopping/dining that Highland Village has maintained in Jackson since 1972."
Thank you so much, Cameron, and congratulations on Albriton's wonderful success! For more information on Albriton's, please visit
www.albritons.com