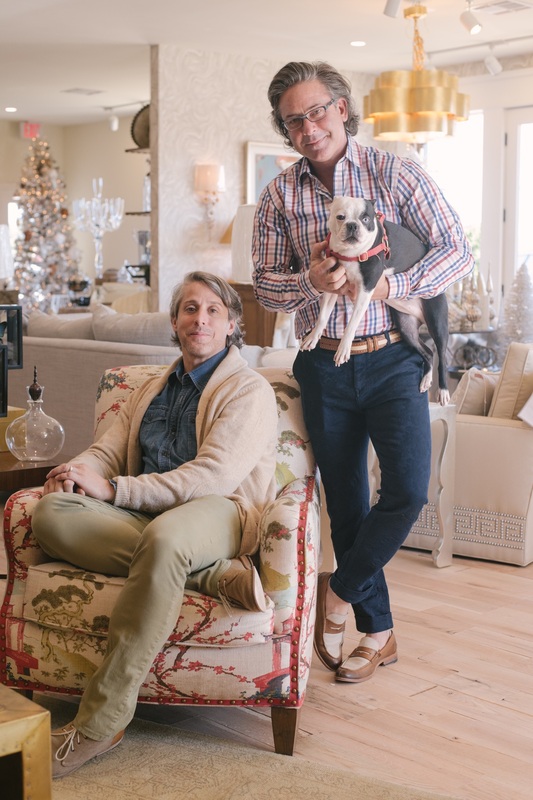 A background in classical ballet led Erik Kegler to become one of the country's most beloved designers. Kegler, a wildly talented New York native, worked as a professional dancer with several ballet companies before earning an interior design degree. After working in Palm Beach under renowned designer Jack Phillips, he arrived in Jackson, Mississippi. That was over seventeen years ago.
Since then, Kegler has been creating gorgeous spaces and events with his partner, Brennan Hovell. When Kegler and Hovell were introduced, their chemistry was instantaneous. Hovell, the son of a custom home builder, had worked for a number of years in the interior design industry, and always approached jobs with the unique perspective of coming from a construction background. With Kegler's artistic past, they were a perfect pair.
"We are the people who encourage others to go out and be inspired," says Kegler. "Brennan and I have a really good marriage of how we work on things. We are both very aware of the fact that there are certain houses or events that one of us might feel a strong attachment. The other acts as a really good editor. We balance each other well, and we work as a great team." Hovell adds, "One of the best things about working together is that we have the opportunity to build on each other's creative ideas!"
When designing homes or spaces, they approach interiors with a unique perspective. "A room is permanent. Everything we do is inspired by the people we work for! Our goal is for a client's room to look like them. Not like we designed it. It should reflect who they are as human beings, their dreams and their wishes," smiles Kegler.
Kegler's background in the arts has truly inspired his career as an event designer. He says,"Events are like a little theater me. I see them as a production. You really kind of lose yourself in it; nothing is ever the same," he says. "Each event is unique, which keeps us fresh and creative. It is an incredible opportunity, getting to know interesting people and their bringing
their
dreams to life instead of ours."
About five years ago, Kegler and Hovell opened their event design and rental company, Eventful. After planning parties for various clients, Kegler was unable to find the unique rental pieces and accessories he was looking for. "We wanted a company with lots of pretty things and beautiful linens," reflects Kegler. Eventful was born, and events around the country have never been so exceptional.
"When we are working outside of Mississippi, we do take our Mississippi roots and aesthetic with us. A little southern touch of warmth," says Hovell. "We also love to bring back a bit of a modern edge to Mississippi and mix the two styles together."
Today, Kegler continues teaching ballet at the Metropolitan Dance Academy in Jackson."Teaching children helps relax a part of my creativity. It rejuvenates another aspect of my life I have to let each of my interests rest and be inspired by the other."
Lucky for us, this wildly warm, creative and kind pair plans to remain in Mississippi. "It is such a great state. People always ask if we would love and the answer is
no
," reflects Kegler. "I have lived many other places but I truly enjoy running a business and living in Mississippi."
For more information on Erik Kegler Events, Erik Kegler Linens or Eventful, please visit their
website here
. You can also visit their
Facebook page here
! Eventful recently opened a gorgeous retail location in Jackson; We look forward featuring photographs of their beautiful space with Inspiration Mississippi soon!